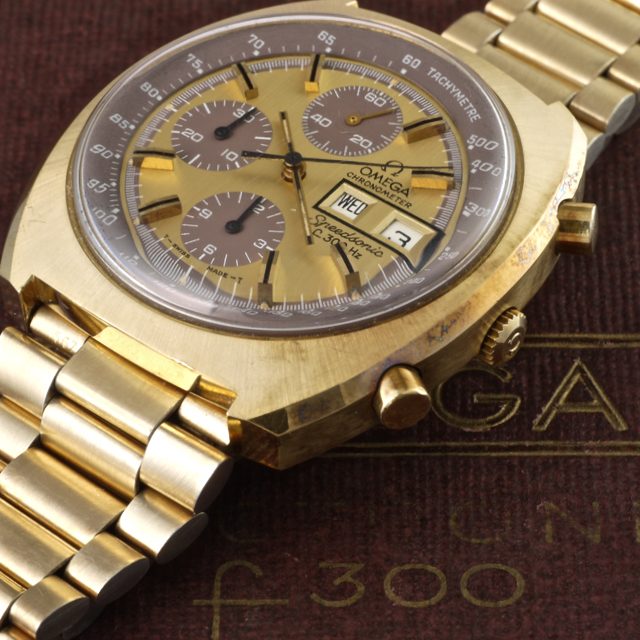 1975
Omega Speedsonic f 300Hz Chrono
The city of Saigon is surrendered and remaining Americans are evacuated, ending the Vietnam War
1975 Omega Speedsonic f 300Hz Chronometer ref. MD 188.0002, quartz movement cal 1255, 43mm. made in gold plated or steel case.
The SpeedSonic has no automatic or quartz movement, but a tuning fork movement. Like the Bulova Accutron in the 60s, it was also developed and produced by Bulova and ticks on a very high frequency by using the vibrations (300 Hz) of the tuning fork.
Tuning forked watches are more accurate than a mechanical watch and are powered by a 1.35 volt battery instead of a 1.5 volt, be careful.
When the Quartz watches turned up, Omega stopped producing these watches, so they were not very long in production. This makes these watches quite rare, and thus collectible. Omega also use this movements in the Constellation and Seamaster lines.
Omega was founded in 1848 by Louis Brandt at the age of 23. The brand's reputation grew fast and in 1895 the watches achieved a precision of 30 seconds a day.
By the turn of the 19th century Omega was one of Switzerland's largest watch companies with 240,000 watches produced annually and employing 800 people.
Omega made its debut in sports during the Gordon Bennett international ballooning Cup in 1917; since then Omega has gone on to be the official timekeeper at 21 Olympic Games.
In 1936 Omega set the remarkable World precision record of 97.8 points at the Kew-Teddington observatory in England.
In 1957, with motorsport in mind, Omega launched the Speedmaster, which in 1965 was chosen by NASA as its official chronometer in Space. Four years later the Moonwatch was the first watch to be worn on the Moon, when on 21st July 1969 Neil Armstrong made his giant leap for mankind. Currently Omega belongs to the Swatch Group.