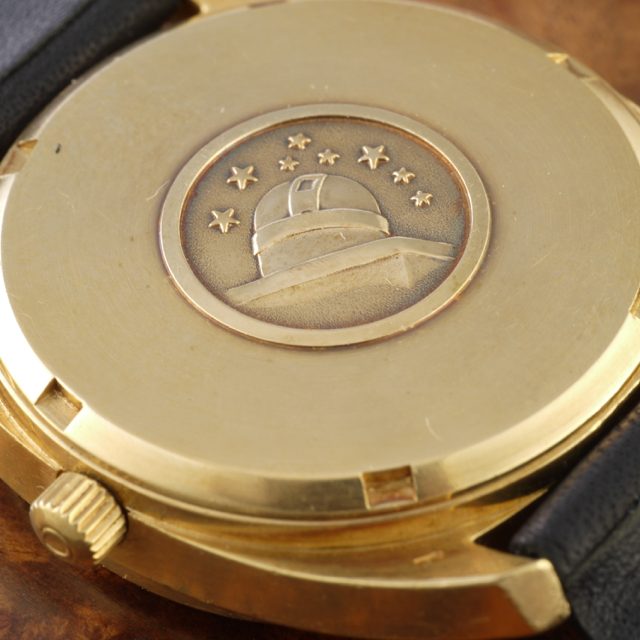 1976
Omega Constellation C
The US Navy tests the Tomahawk cruise missile
1976 gold Omega Constellation C ref. BA 168.0057. This self-winding chronometer model is the same as the one equipped with the famous caliber 1021 that gained 7 times a 0.0 second divergence during it's official chronometer testing.
Since 1952 the Omega Constellation has been among the highest level of Luxurious and precise watches.
On the dial the name Constellation is on top of a Gold Star. On the back of the case we find the famous medallion featuring an observatory crowned by a Constellation of eight stars, evoking the numerous exploits of Omega in word chronometer competition.
In 1958 the Constellation Calendar was included. It was available in the three different levels of finish from Standard to Grand Luxe. At that time the Constellation was advertised as being for the man who already has a watch, an allusion to the fact that a Constellation was so much more.
The watch drastically changed in 1964 with the introduction of the C-shaped Constellations, which, although they had a different overall look, continued to be elegant, luxurious and ultra-precise. The new design reflected the emerging trend of the 1960s toward bigger watches. The revised Connie had a minimalist dial and the lugs were fully integrated, maximizing the impression of a larger case.
The C-Shape has come some way into gaining acceptance since the days they were generally shunned in preference to pie pan models. A few years ago, thankfully, they were very cheap, but a growing number of collectors seem to want to have one in their collections of Connie's and I've seen prices rise considerably over the years. The Connie's, as Omega enthusiasts fondly refer to them, were one of the finest and most accurate lines of watches available at the time and catered to various budgets and tastes.
Omega was founded in 1848 by Louis Brandt at the age of 23. The brand's reputation grew fast and in 1895 the watches achieved a precision of 30 seconds a day.
By the turn of the 19th century Omega was one of Switzerland's largest watch companies with 240,000 watches produced annually and employing 800 people.
Omega made its debut in sports during the Gordon Bennett international ballooning Cup in 1917; since then Omega has gone on to be the official timekeeper at 21 Olympic Games.
In 1936 Omega set the remarkable World precision record of 97.8 points at the Kew-Teddington observatory in England.
In 1957, with motorsport in mind, Omega launched the Speedmaster, which in 1965 was chosen by NASA as its official chronometer in Space. Four years later the Moonwatch was the first watch to be worn on the Moon, when on 21st July 1969 Neil Armstrong made his giant leap for mankind. Currently Omega belongs to the Swatch Group.