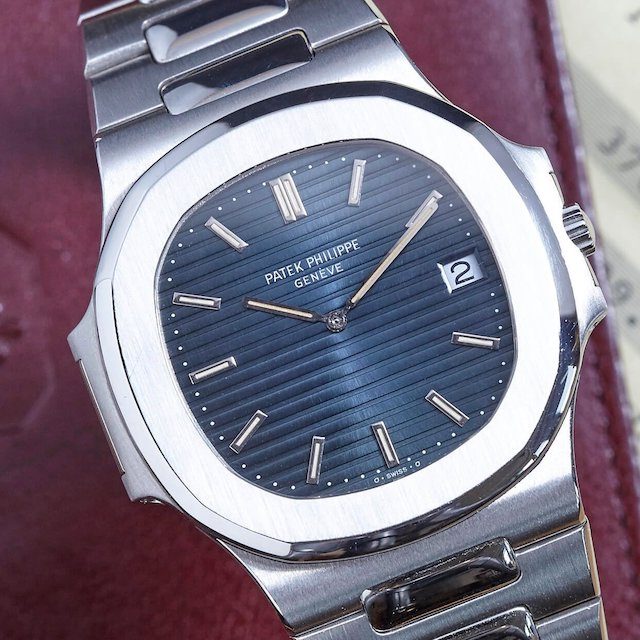 1976
Patek Philippe Nautilus Jumbo
Air France and British Airways begin the first regularly scheduled commercial supersonic transport (SST) flights.
Patek Philippe Nautilus Jumbo ref. 3700/001, Calibre 28-255C
This series features the legendary ultra-thin Calibre 28-255C automatic winding movement developed by Jaeger-LeCoultre, with an incredibly crisp case, thin integrated bracelet in supremely tight condition, and classic blue textured dial.
Considered by many to be the ultimate expression of '70s design by legendary designer Gerald Genta, the Patek Philippe Nautilus Jumbo, along with the other Genta-penned masterpieces of the era (Audemars Piguet Royal Oak, IWC Ingenieur SL), revolutionized the timepiece industry by introducing stainless steel cases at luxury price points – an unlikely combination of features that took the market by storm.
According to Genta, the inspiring idea was the shape of a porthole, like those that could be found on transatlantic liners. The patented case was formed by a solid backcase/middle case monobloc and the distinctive octagonal bezel secured to it by four lateral screws to ensure water-resistance. Each of the eight sides of the bezel was subtly curved to trace a perfect arc of a circle, a subtle detail making a big difference from a design point of view.
The name of the watch was taken from the Jules Verne's novel "Twenty Thousand Leagues Under the Sea" where Nautilus is the submariner used by Captain Nemo. The combination of the wide lugs with the lateral ears provided uniform compression on a rubber gasket that allowed the case to become more resistant to penetration as water pressure increased.
Polish watchmaker Antoni Patek started making pocket watches in 1839 in Geneva. In 1845 Patek joined with the French watchmaker Adrien Philippe, inventor of the key-less winding mechanism. Patek Philippe & Co was founded in 1851.
It designs and manufactures timepieces and movements including some of the most complicated mechanical watches. It is considered by many experts and aficionados to be one of the most prestigious watch brands along with Audemars Piguet, Vacheron Constantin, and A. Lange & Sohne.
Patek Philippe pioneered the perpetual calendar, split-seconds hand, chronograph, and minute repeater in watches.
In 2012, the company produced 50,000 watches.
Patek Philippe timepieces have recorded high prices in auctions worldwide. A large part of the demand for auction pieces is driven by Patek Philippe themselves, as they are often purchasing in the auction market to add to the collection of the Patek Philippe Museum in Geneva.
Submitted by Analog Shift.