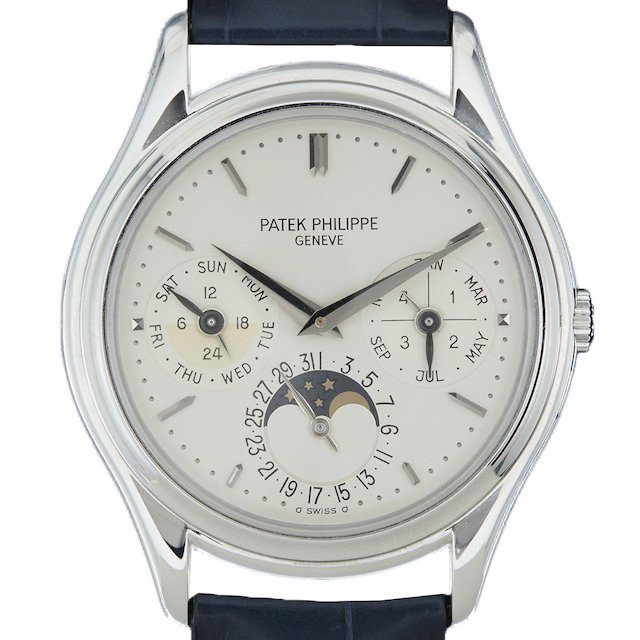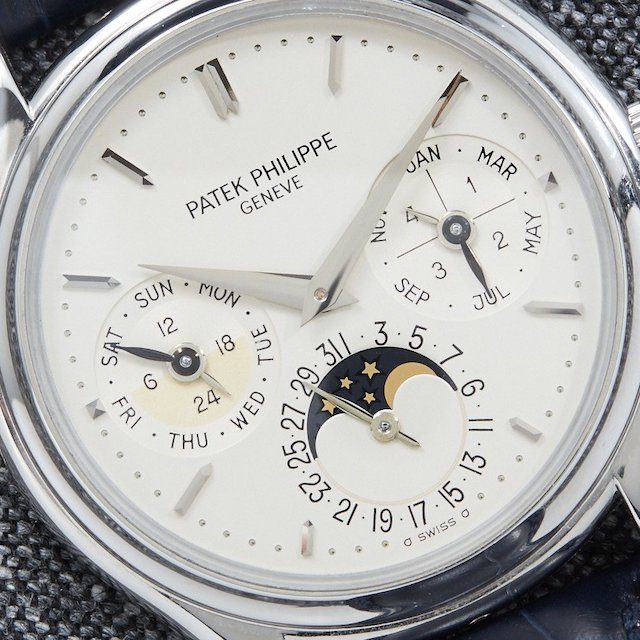 1985
Patek Philippe Perpetual Calendar
Soviet leader Chernenko dies at 73 and is replaced by Mikhail Gorbachev, 54 (March 11). Under the slogans of glasnost and Perestroika, Gorbachev initiates a broad program of reform and liberalization.
Patek Philippe Perpetual Calendar ref. 3940P
This Patek Philippe Perpetual Calendar White Gold perfectly illustrates why the 3940 is so coveted and timeless. It is understated both in its styling and size. With its modest 36 mm size, with a slim case matched by a slim automatic movement, it smoothly fits the wrist.
The dial has three registers, with the various functions neatly balanced out. The sub-dial at three o'clock shows the leap-year counter and the months, in a slightly recessed sub-register, giving depth to the otherwise lightly brushed, silver dial. In a similar fashion, the months and day/night indicators are placed at nine o'clock. The stunning moon-phase is placed at six o'clock, with the days of the month around it. The silver Dauphine hands add a touch of masculinity to what only can be described as a beautiful dial. The overall look is refined and subtle, without compromising functionality.
Representing the best of Swiss design, the movement itself is no less a technical feat. The model has a display back, revealing the fantastic hand-finishing, the Geneve coat of arms and stripes, as well as the off-center, 22k gold micro-rotor. The ultra-thin self-winding movement has been in use by Patek since the 1970s, and continue to beat at the heart of their modern perpetual lines.
Patek Philippe Perpetual Calendars are the authoritative complications of calendar watches. When Patek Philippe created this model in the 1980s, perpetual calendars were really scarce. Since it was born, though, the 3940 became a standard for all modern perpetual calendars was established. Timeless, elegant and discontinued – the Patek 3940 is an investment for life, to be worn – and appreciated, daily.
Polish watchmaker Antoni Patek started making pocket watches in 1839 in Geneva. In 1845 Patek joined with the French watchmaker Adrien Philippe, inventor of the key-less winding mechanism. Patek Philippe & Co was founded in 1851.
It designs and manufactures timepieces and movements including some of the most complicated mechanical watches. It is considered by many experts and aficionados to be one of the most prestigious watch brands along with Audemars Piguet, Vacheron Constantin, and A. Lange & Sohne.
Patek Philippe pioneered the perpetual calendar, split-seconds hand, chronograph, and minute repeater in watches.
In 2012, the company produced 50,000 watches.
Patek Philippe timepieces have recorded high prices in auctions worldwide. A large part of the demand for auction pieces is driven by Patek Philippe themselves, as they are often purchasing in the auction market to add to the collection of the Patek Philippe Museum in Geneva.
Submitted by Analog Shift.