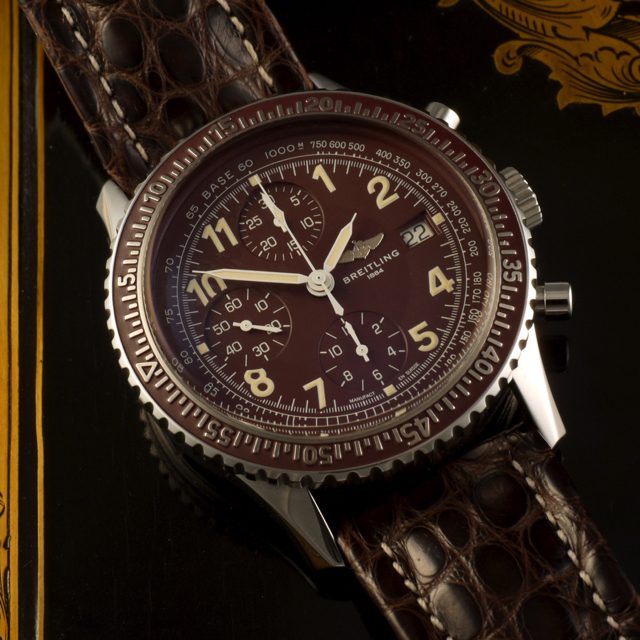 1996
Breitling Avistar AVI
IBM computer Deep Blue becomes the first computer to win a game of chess against a chess champion, Gary Kasparov
1996 Breitling Avistar AVI A13024 inspired by the old AVI Co Pilot.
The high domed Saphire Crystal is a unique caracteristic of the Breitling Avistar AVI A13024. Brown dial, Syringe hands, 60 minutes rotating bezel, automatic movement cal. 13, a Breitling modification of the Valjoux 7750.
The AVI designation replaced the CP which stands for Co-Pilot. The material of the bezel changed from steel to anodized aluminum.
Breitling has been a leading innovator in high quality stopwatches and chronographs and helped define how chronographs look and function until today.
Breitling launched the first wrist chronograph with a pusher at 2:00 in 1915.
Presented in 1933 as the first dual pusher wrist chronograph with pushers at 2:00 and 4:00 o'clock.
Breitling was one of the first manufacturers to recognize the need of early aviators for wrist watches incorporating such devices.
Consequently in 1942 Breitling introduced the Chronomat, the worlds first Smart Watch. A chronograph with a rotating logarithmic slide rule that allowed complex calculations with the turn of your fingers.
Throughout the 1930s to 50s, Breitling continued creating chronographs with different scales to suit different professions, such as tachometers for production engineers and drivers, and pulsometersfor doctors.
As a result in the 50s the Breitling Navitimer Chosen as the official timepiece of AOPA, Aircraft Owners and Pilots Association. Something which Breitling has traded on ever since.
A 24-hour dial version, the Cosmonaute, was also produced in the early 60s.
Jerry Seinfeld, Graham Hill, Jim Clark, Miles Davis all wear (or wore) a vintage Breitling Navitimer.