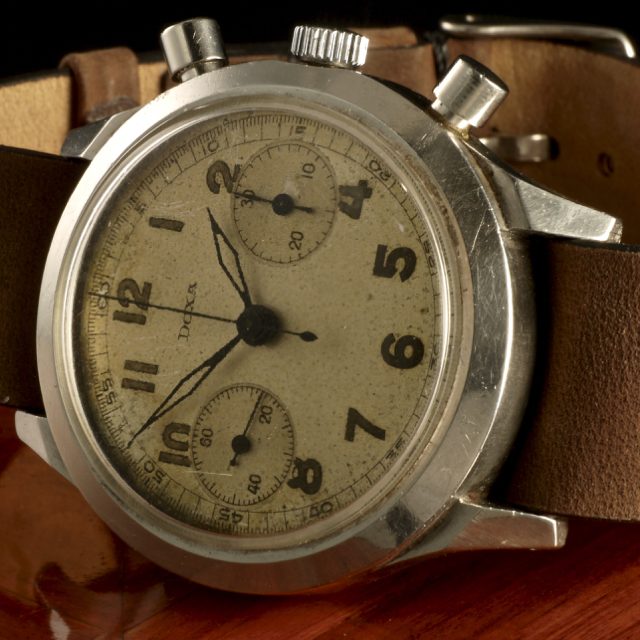 1945
Doxa Chronograph
Hitler commits suicide, Germany surrenders
1945 Doxa Military Chronograph fixed lugs, 37.5mm. Screw back waterproof case, manual winding movement calibre Valjoux 22.
The Doxa company was founded in 1889 by Georges Ducommun. The ambitious 21-year-old craftsman created high-quality timepieces, initially pocket watches often with exquisite hand-decoration, progressing to award-winning wristwatches as the company earned respect and success.
Under its founder, the Doxa watch brand became an innovator within the industry when in 1908 he patented an 8-day watch movement. This pioneering mechanical movement was placed in a larger case making it the perfect timepiece for the latest new leisure pursuits of that time aviation and motor cars. One of the most famous names in motoring history, Bugatti used the Doxa 8-day movement instrument in the iconic Type 35 Bugatti.
The Doxa watch company came under the ownership of Jacques Nardin when its founder died in 1936. Nardin, the son-in-law of Georges Ducommun, was the grandson of another famous watchmaker, Ulysse Nardin. Having had a history of timekeeping within aviation and motor racing, Nardin sought to take the Doxa brand into a new niche that of the divers watch.