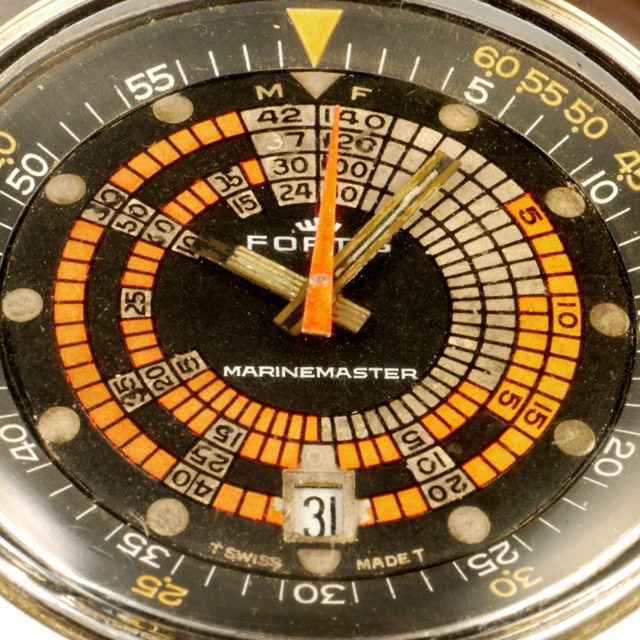 1968
Fortis Marinemaster
Prototype of world's first supersonic airliner. The Soviet-designed Tupolev Tu-144 made its first flight
1968 Fortis Marinemaster 6237 movement cal. ETA 2782.
The Super-Compressor Fortis Marinemaster case refers to a patented sealing method developed bywatch case manufacturer Ervin Piquerez. The design takes advantage of the water pressure. The case is exposed to at depth to press the case back against the o-ring seal. Consequently, more depth equals more water pressure equals greater seal.
The Fortis Marinemaster 6237 dual crowns at 2 and 4 o'clock. (one to set the time and the other to control the inner diver's rotating bezel) feature a distinctive cross-hatch finishing, over which many brands placed their logo.
Along with the typical cross-hatch finishing on the crown. The case backs of Super Compressor divers often bore EPSA's dive helmet logo.
The Fortis Marinemaster 6237 polygonal-shaped unique case back fits together with a bayonet attachment system, ensuring stripped or crossed threads. This quirky, yet efficient caseback design sets Exactus Aquamax Safety diver watches apart from the others, making it an excellent and sought-after vintage diver.
In 1912 the 29-year-old watchmaker Walter Vogt, together with Alfred Refli, founds the so-called Kollektivgesellschaft Vogt and Refli zur Fabrikation von Uhren in Grenchen. A short time later Vogt, who had been trained as a watchmaker in Biel and had worked for Eterna, acquires the company as sole owner.
1926 Fortis, as the worlds first watch factory, produces the wristwatch with automatic winding invented by John Harwood invented. The brands Fortis and Harwood today belong to the same owners.
In the 1960s and 1970s, Fortis watches looked so colorful and were also so open to the use of plastic that they even could be subsequently classified as forerunners of the Swatch watch. There were models like the Flipper and the Logo, where the plastic case and bracelets could almost arbitrarily combined with colored dials.