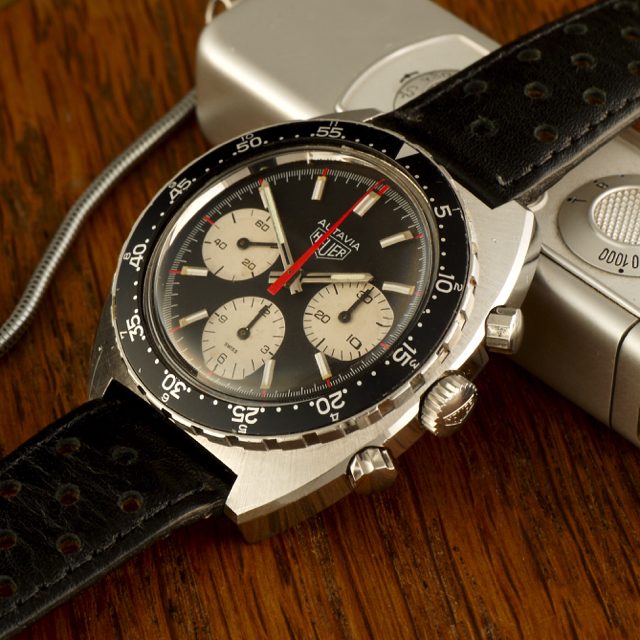 1972
Heuer Autavia
The compact disk is developed by RCA
1972 Heuer Autavia ref. 73663 manual winding movement cal. Valjoux 7736.
The earliest Autavias were introduced in the mid-1960s and housed manually-wound chronograph movements, in the 1970s, Heuer shifted to the large, cushion-style cases that are most often associated with the model, primarily to accommodate the new Caliber 11 movement.
The rare Reference 73663 is an example of the larger, cushion-cased variety of Autavia, but is unusual in that it doesn't contain the Caliber 11. Instead, it is driven by a robust, manual-winding Valjoux chronograph movement, the Valjoux 7736. Indeed, most of the Autavias manufactured after 1969 did house the new Calibre 11 automatic movements, but a relatively small number were produced with manual winding mechanisms.
At first, they applied the name Autavia to dashboard clocks and instrumentation used in automobiles and aircraft. Heuer recycled the name in the 1960s and applied it to their line of professional racing chronographs.
The name Autavia comes from a combination of two words: Automotive & Aviation, they are the archetype of 60s and 70s Motorsports watches. They have large cases, handsome dials, and excellent movements. During the golden age of automobile racing; a chronograph watch was an essential piece of kit and many of the racing greats had a Heuer strapped to their wrist.
It all started in 1860, with Edouard Heuer setting up a workshop in Bernese. A predominantly French-speaking area of Switzerland close to the French border. A small town even now with a population under 5000.
However, watch companies know extremely well, by setting up where somebody founded Breitling and has made its home at the very beginning to Longines. Of course, those companies were artisan workshops producing small numbers of mostly silver cased pocket watches.
In 1914 Heuer made the first wristwatch for men. They used pocket-watch movements and reflected demand for wristwatches. That would only increase during the First World War and after.
1920 was the first time in 8 years that an Olympic Games had been held, following the cancellation of the 1916 Berlin events. Heuer had some prominence as a sports timing company by this point and was pleased to be selected as the official timer of the Antwerp games. This was subsequently extended to the 1924 games in Paris and 1928 in Amsterdam: this cemented the brand marriage between timing and sports.
For today's collectors, the heyday for Heuer really began in the mid-1930s. I think that's also probably true for many other brands. Heuer began making pilots chronographs in 35. Primarily Air Force pilots used these, a lot of them in the German Air Force. For most Heuer collectors, these pilot chronographs from around 1935. The first real survivors, regularly someone can find on the market today.