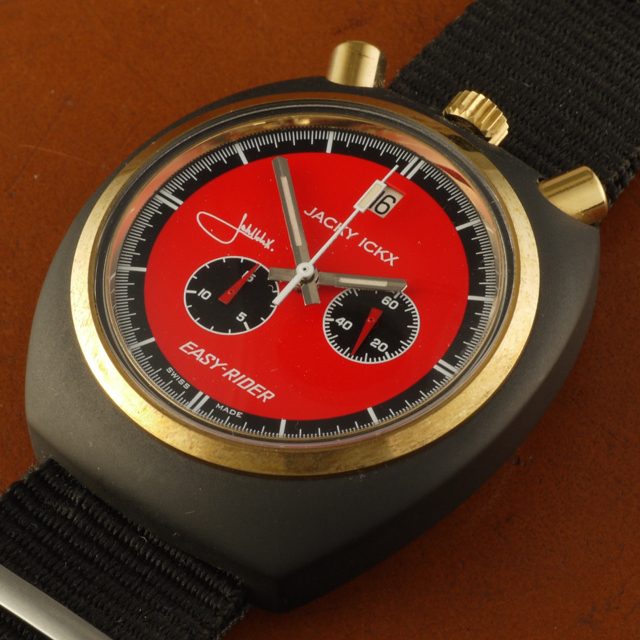 1972
Sorna Bullhead Jacky Ickx Easy-Rider
Electronic mail is introduced
1972 Sorna Bullhead Jacky Ickx Easy-Rider. Note the two different watches, gold case and black bezel and black case gold bezel.
The "Easy Rider" chronograph was manufactured by the Swiss watch company Sorna and named after the Belgian Formula 1 racing driver, Jacky Ickx. Like the sought after "Jacky Ickx – Easy Rider" chronograph manufactured in the early 1970s by Heuer-Leonidas, this Sorna version was also made with the same licensed endorsement and has the identical manual wind 17-jewel movement (EB 8420) inside.

The word bullhead is the term used for chronograph watches that have their crown and chronograph pushers on top of the case (in some cases the crown is at the bottom of the case) rather than on the side hence resembling the look of the head of a bull with its horns. These cases are usually larger and thicker than the average chronographs. Most of the time their cases are not even-shaped, meaning that the top of it where the pushers and the crown is located is wider and thicker and the bottom of the case is thinner. This way the dial is tilted towards 6 o'clock. This allows the wearer to check the time on the watch much more easily hence the oddity of the case. They are particularly special for no reason other than in most cases they were produced in relatively small numbers.
Jacky Ickx is a Belgian former racing driver who won the 24 Hours of Le Mans six times, achieved eight wins and 25 podium finishes in Formula One, won the Can-Am Championship in 1979 and is a former winner of the Dakar Rally.