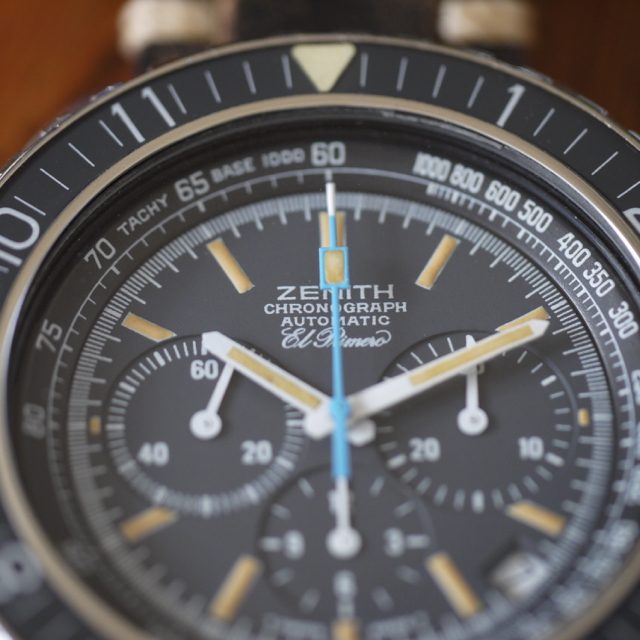 1972
Zenith el Primero
The compact disk is developed by RCA
1972 Zenith El-Primero Pilot-Diver ref. 3019PHC.
The Zenith el Primero Pilot-Diver was a bold watch ahead of its time. It was quite simply too large to be considered a luxurious timepiece and too expensive for a true tool watch.
This is a rare Zenith el Primero, some sources talk about 2,500 pieces, others state only 1,000 pieces in different bezels variations: a divers bezel with a 1-55 graduation and an aviators bezel with numerals 1 through 12.
In 1969 three automatic chronographs were introduced: the Zenith el Primero A319, the Seiko 6139, and the Caliber 11 (produced in partnership with Heuer, Hamilton/Buren, Dubois-Depraz and Breitling). To this day, it is disputed as to which of these brands launched first. In fact the Caliber 11 did go on sale before the el Primero.
The history of el Primero might have ended abruptly in 1975. That was when the Zenith Radio Corporation, the American company that had owned the brand for the past four years, decided to stop making mechanical watches and to stick to quartz watches. The decision was irrevocable and the owner intended to negotiate a scrapyard price for all the machines, calibers and tools. The order was to be executed without delay and the metal along with a century of tradition to be sold by the ton to the highest bidder.
At the risk of losing his job, Charles Vermot simply could not face the thought of seeing his production equipment destroyed, and so he hid all essential tools and components. Just nine years later, the entire set of lost equipment was back in place. Without his courageous act, the brands very survival would have been in jeopardy.
In the early 1980s, a press alone cost over 40,000 francs and it takes over 150 of them to make an el Primero meaning a total of 7 million Swiss francs. Zenith's financial, technical and human investments could thus have been swept aside in one stroke.
During its 41-year history the total of all el Primero movements ever made (including the hundreds of thousands found in the Rolex Daytona 16520) add up to only 600,000; by contrast over 1,000,000 Valjoux 7750 movements are made each year.
Zenith,is one of the Swiss watch manufacturers that still produce their own movements in-house was purchased by LVMH in November 1999, becoming one of several brands in their watch and jewellery division.