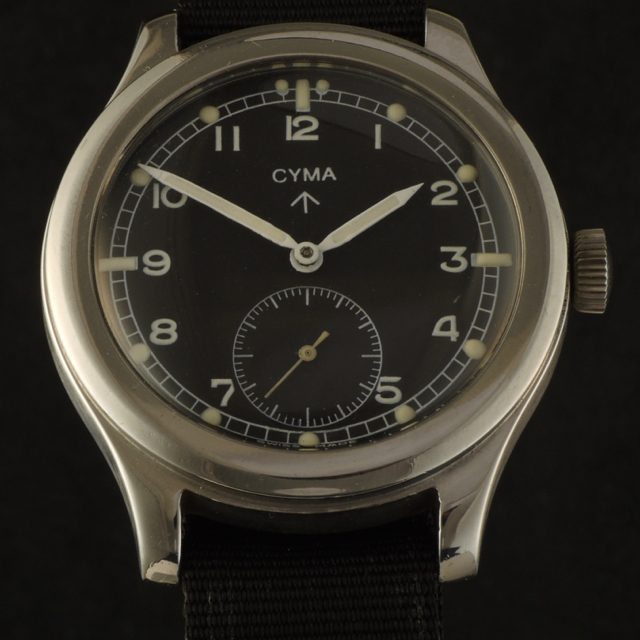 1945
Cyma W.W.W.
Allies invade Normandy on D-Day
1945 Cyma WWW – Watches Wristlet Waterproof
The Ministry of Defense in the 1940s developed a specification for military issue wristwatches. In all there were 12 different manufacturers who produced watches to his specification: collectively they are referred to as The Dirty Dozen.
The companies that produced accepted versions were: Buren, Cyma, Eterna, Grana, JLC, Lemania, Longines, IWC, Omega, Record, Timor and Vertex.
Of the twelve brands, with a estimate production of 20.000 pieces the Cyma is one of most popular for several reasons.
The Cyma WWW is housed in a solid stainless steel case, measuring a respectable 37mm. wide not including the large crown. Many of the other manufacturers used chrome plated cases which have survived to varying degrees, making the steel case of the Cyma easier to find in nice condition. Also, the 38mm. case is the largest of the dozen.
The movement in these is the Cyma caliber 234, a 15 jewel manual wind. Oddly, this movement does not have a shock protected balance.
Cyma was founded in 1862, and is best known for its accurate, ultra-flat movements and cases.
During the 1920s, the company was at the forefront of component interchangeability, which enabled its workshops to produce watches on a much bigger scale.
In 1939 Cyma boasted the biggest workshop in Europe and employed 2,000 people to assemble 4,000 watches a day.
The company is currently owned by Stelux Internationa,l a Hong Kong based holdings firm which invests primarily in fine jewellery and watches.