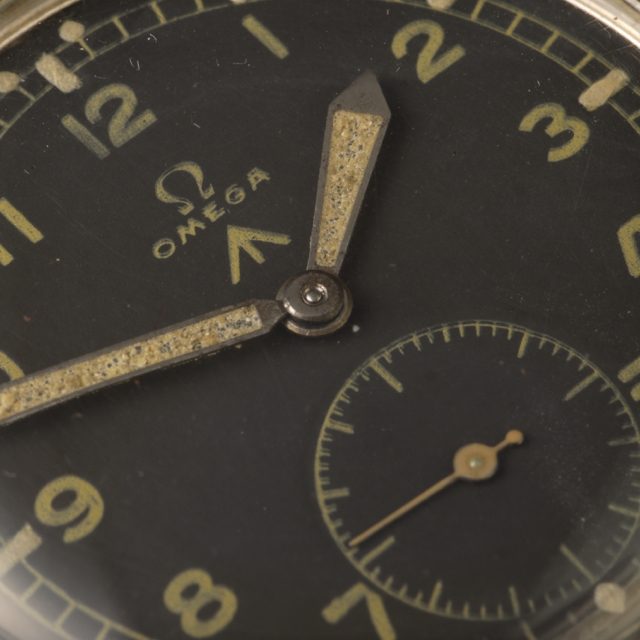 1945
Omega UK
Hitler commits suicide
1945 Omega UK ref. CK2444 WWW – Watches Wristlet Waterproof, manual winding movement cal. 30T2 with special adjustment in four position to within ten seconds per day, entirely satin-brushed water resistant 34.8mm. case, lugs with soldered bars and engraved WWW case-back. Omega supplied in WWII a total of 110,000 watches to the British forces, but only 3,000 units with the ref. 2292 between March and June 1943.
The Ministry of Defense in the 1940s developed a specification for military issue wristwatches. In all there were 12 different manufacturers who produced watches to his specification: collectively they are referred to as The Dirty Dozen.
The companies that produced accepted versions were: Buren, Cyma, Eterna, Grana, JLC, Lemania, Longines, IWC, Omega, Record, Timor and Vertex.
Omega supplied the NATO bracelet used by British pilots, navigators and members of the army during the second World War. For security reasons, their fixed stems, often welded, were less likely to leave than the spring rods and they are therefore less likely to lose the bracelet. This meant, of course, that all bracelets were created as a single piece, inserted through the fixed rods.
Originally supplied in high quality nickel cases, they quickly became fitted into soft alloy grey looking metal economy cases, that served their purpose.
The 30T2 is responsible for much of Omega's reputation for quality and accuracy.
Introduced in 1939, the 30T2 was a highly adaptable base movement and different versions were in production until 1963.
The design is simplicity itself, small enough to fit into a 33mm. dress watch case, but otherwise sized to allow the largest possible balance and barrel. It was so robust and elegantly designed that watchmakers still compliment its serviceability, durability and ease of assembly.
In the 40s Omega produced a small series of chronometers, the 30T2 RG, which was a highly refined version of this movement.
After 1949, Omega changed their movement nomenclature and the same movements have three digit caliber numbers in the 260 and 280 ranges.
Omega was founded in 1848 by Louis Brandt at the age of 23. The brand's reputation grew fast and in 1895 the watches achieved a precision of 30 seconds a day.
By the turn of the 19th century Omega was one of Switzerland's largest watch companies with 240,000 watches produced annually and employing 800 people.
Omega made its debut in sports during the Gordon Bennett international ballooning Cup in 1917; since then Omega has gone on to be the official timekeeper at 21 Olympic Games.
In 1936 Omega set the remarkable World precision record of 97.8 points at the Kew-Teddington observatory in England.
In 1957, with motorsport in mind, Omega launched the Speedmaster, which in 1965 was chosen by NASA as its official chronometer in Space. Four years later the Moonwatch was the first watch to be worn on the Moon, when on 21st July 1969 Neil Armstrong made his giant leap for mankind. Currently Omega belongs to the Swatch Group.