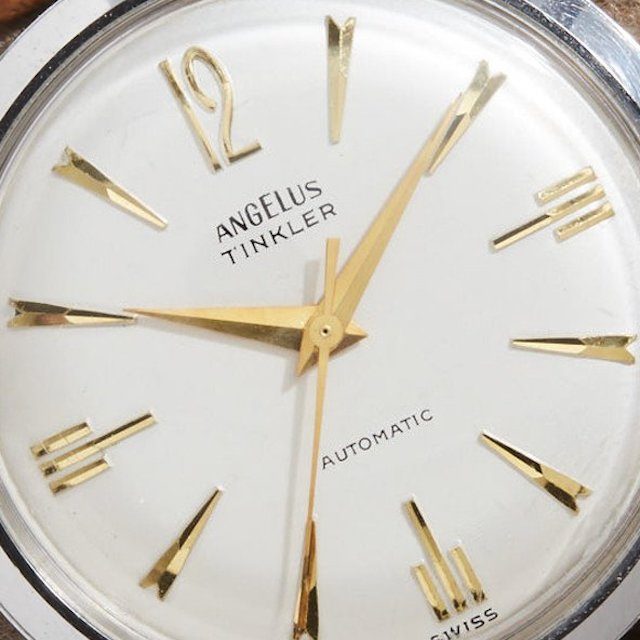 1954
Angelus Tinkler
The USS Nautilus, the first atomic submarine, is commissioned at Groton, Connecticut.
1954 Angelus Tinkler ref. Calibre 1850
The 36mm stainless steel Angelus Tinklera quarter repeater, which strikes the hours and then the quarter hourswas released in 1954, at a time when repeating watches were already obsolete.
Furthermore, Angelus used an automatic calibre to power the watch (the plentiful Calibre 1850 by A. Schild), making it even more of a novelty. But the Tinkler proved so costly to produce that only 100 examples ever saw the market.
Angelus has a long and storied history of making watchesand making them well. Established in Le Locle in 1891, Angelus won awards at exhibitions almost every year from 1902 to 1926. They made their name for the movements that they manufactured in house, and in the realm of complications they particularly excelled.
Their Chronodato chronograph, released in 1942, was the first chronograph to feature a calendar, and has become desirable by collectors.
Following the success of the Chronodato, the heads at Angelus decided that the best successor to a complicated chronograph would be another complicated watch, the quarter repeater Angelus Tinkler.
Throughout history, until the invention of electric lighting in the late 19th century, the days were lit by the sun, the nights by the moon, and on moonless nights the only way to see was by candlelight.In the 17th Century, clockmakers and, later, watchmakers, devised repeating clocks and watches as a way to tell time in the dark. English watchmakers Edward Barlow and Daniel Quare both devised systems for quarter-repeater watches, which were sold commercially just as the 18th century dawned.
Essentially, in a mechanical watch, a repeater is a complication that chimes the hours and minutes. It was Barlow who invented the rack and snail system that watchmakers still use to make repeating watches. In this system, once a button on the outside of the case is depressed, a lever releases a hammer that then strikes a bell mounted inside the watch case.
Repeaters were useful for the visually-impaired as well, as they tell the time through sound rather than sight, which saw their continued use by soldiers who had been blinded by mustard gas in the First World War.
To make a repeater represents the height of technical prowess, and brands from Patek Philippe to Audemars Piguet count the complication in their collections. And to own one conveys that the collector possesses a love for haute horlogerie.
But innovation is often a double-edged sword, especially in the world of watchmaking, where thousands of hours of brain power and the equivalent amount of money can prove fatal if a product does not sell well.
Due to the extreme rarity of Angelus Tinkler pieces, only a few have ever surfaced on the market. The Angelus Tinkler is an enduring testament to the creative spirit of the minds who created it, and is without a doubt one of the most interesting pieces for any collector.
Submitted by Analog Shift.