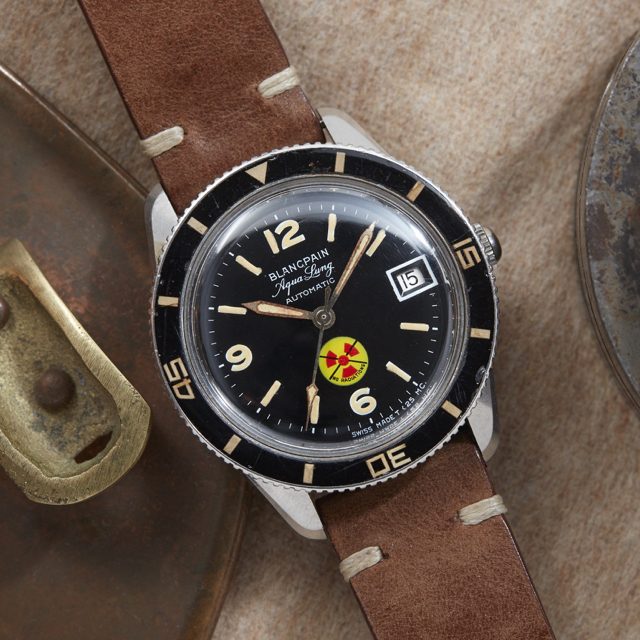 1965
Blancpain Fifty Fathoms
The first US combat troops arrive in Vietnam. By the end of the year, 190,000 American soldiers are in Vietnam
1965 Blancpain Fifty Fathoms diver watch No Radiation dial.
The Blancpain Fifty Fathoms is without question one of the most iconic dive watches, and arguably the first; however, it might never have been made at all were it not for one man: Jean-Jacques Fiechter of Blancpain.
The "No Rad" Fifty Fathoms packs all of the punch of its military counterparts. Its 35mm size might seem modest, but its size is deceptive, wearing larger on the wrist due to the bezela nod to the cleverness of Maloubier's design. With a black gloss dial with stunning patina, sword hands, and a crisp Bakelite bezel, its not hard to see why the Blancpain Fifty Fathoms became and remains such an icon.
In 1952, the French Navy and Secret Services tasked two veterans with a formidable mission. These menLt. Claude Riffaud of the Navy and Captain Bob Maloubier of the Secret Serviceswere to create a specialized unit of combat divers, meant to act under the utmost secrecy. Some of the missions they were to enact included attacking ports and sabotage.
Riffaud and Maloubier had a general idea of what gear the divers needed compasses, depth gauges, watches.
But as far as watches were concerned, there was no watch on the market specifically designed for the use to which these combat divers would put it.
So Maloubier, armed with a pencil and protractor, sketched a watch. Not just any watch, but a watch ideally suited for diving. It needed to have a robust, watertight case, and a dial that would be legible in the darkest of nights, at the deepest of depths.
Maloubier shopped his idea to several different manufacturers, but all were resistant of this new and esoteric design; all except Blancpain, that is, whose CEOFiechterhappened to be an amateur diver himself.
Fiechter relished the chance for his company to create a watch that no other manufacturer had dared to make. He relied on Maloubiers expertiseand his own diving experienceto build a watch with a Bakelite bezel and rubber gaskets to seal the case. The movement that he used, rather than a manual wind, would be automatic in order to alleviate pressure on the crown from repeated winding.
The Navies of France, Germany, and the United States chose the Fifty Fathoms for their divers, and underwater explorer Jacques Cousteau appeared in a documentary with the watch strapped to his wrist.
Those not destined for military servicelike the one we feature herewould bear a special design on the dial signifying that the luminescent material was not the radioactive Radium.
Submited by Analog Shift.