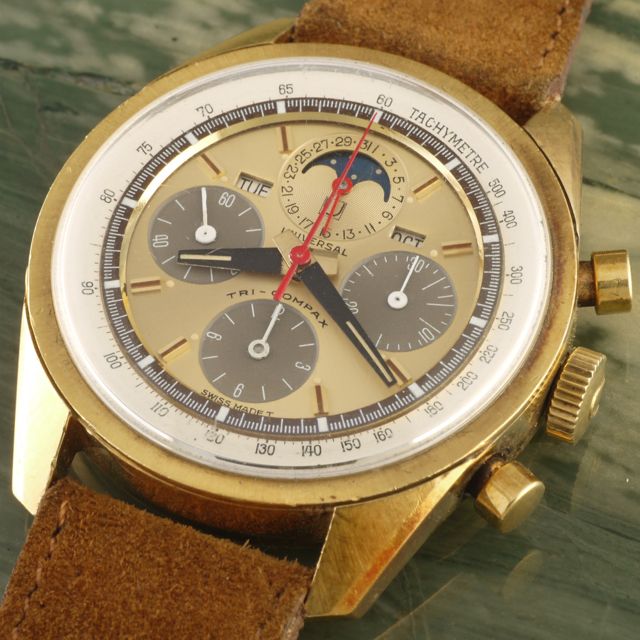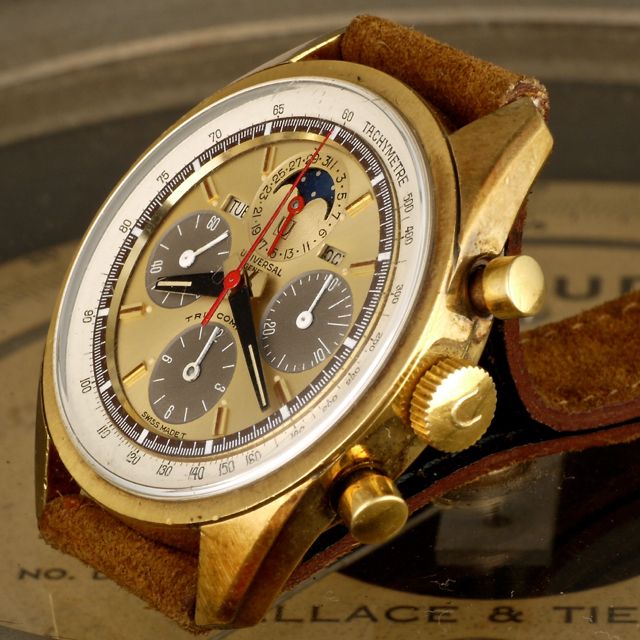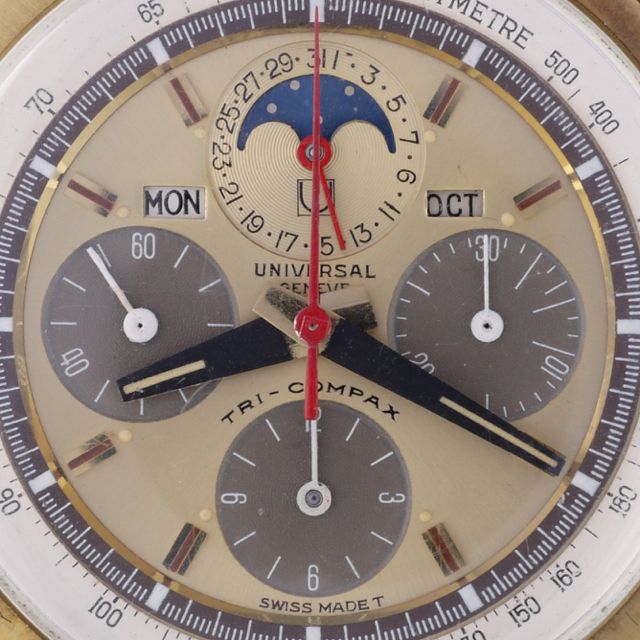 1970
Universal Tri-Compax
Owen Chamberlain and Emilio Segr discover the anti-proton, a form of antimatter
1970 Universal Tri-Compax ref. 181102. Tri" stands for three complications: chronograph, complete calendar and moon-phase display. By the way, the moon-phase display has a painted facsimile of the moon and makes a revolution every 29 days, a complete lunar month.
This is the last Universal Tri-Compax made and it uses the exact 18k gold case as the Zenith el Primero ref. G381 and A386. As far as I am aware, UG made no more than 100 of these, so it's a very rare speciality piece, with unpolished case. In the dial a tachymeter scale that measures how fast an object is moving. Most tachymeters start at 400 and end at 60, but some models can show different numbers.
Founded in 1894 Universal watches are highly disputed among collectors especially for their classic chronographs.
Shortly before the beginning of World War II Universal seized an opportunity to create two wristwatch models: the Compur (in 1933) and the Aero-Compax (in 1936).
In 1941 Universal inaugurates a new ultra-modern production site, built within less than six months to make the new Aero-Compax chronometer for pilot's along with other chronometer models, three years later the Universal Tri-Compax was introduced at Basel Watch Fair for the company's 50th anniversary.
Universal also collaborated with the French fashion brand Hermes and designed a series of chronographs named Pour Hermes. Incidentally, Hermes was responsible for being the major sales hub for Universal in Europe until the 1950s. Twenty years later, the company was one of the few to introduce the quartz movement, which led to automatic watches.
The most notable changes occurred to the 60's Compax, with the use of a water-resistant-type case with screw back cases, as opposed to the early models with snap on case backs. These water-resistant cases had round pushers (early models had square-shaped pushers).