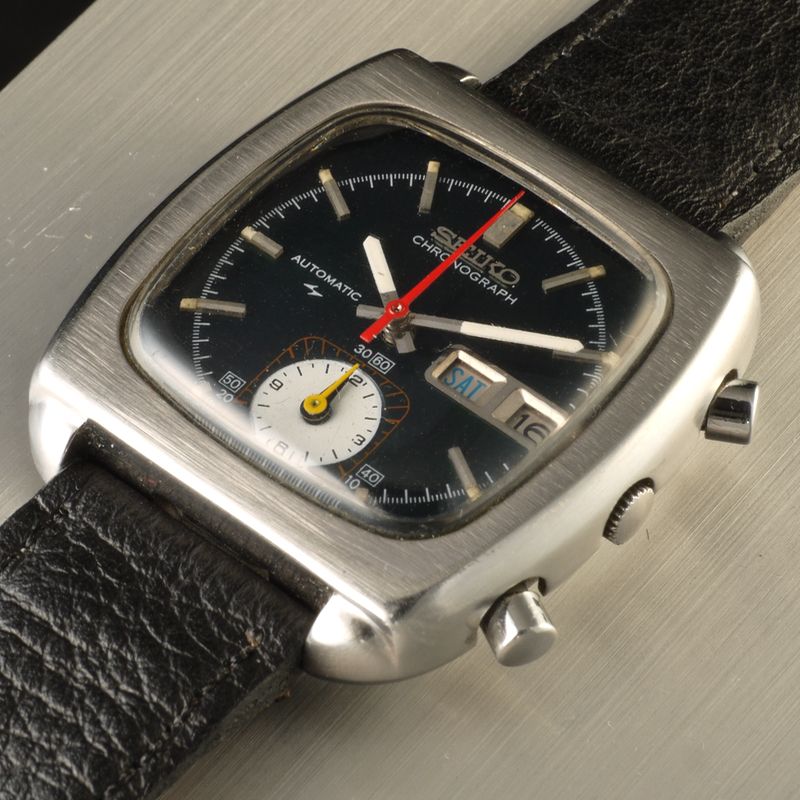 1983
Seiko Chronograph Monaco
The FCC authorizes Motorola to begin testing cellular phone service in Chicago
1983 Seiko Monaco chronograph ref. 7016-5001, 36 x 40mm. case.
This is a very sought after Seiko. The automatic caliber 7016 which features a very unique functionality as both the minute and the second register are in the same sub-dial, surprisingly in the 70s it was sold to the Swiss company Enicar them called Mantagraph.
The 7016A movement is based on the Seiko caliber 7005A. When released in 1971 was the world's thinnest automatic movement, it kept that title until 1987, when the Swiss company Piguet released their caliber 1185 with only 5.5mm. high.
The case of this watch is an interesting design-concept. To get access to the movement you remove the bracelet, then the two buttons between the lugs must be pushed and the upper part of the case can be lift off. The movement is housed in the back-part of the case, to get it out the crown must to be released.
The company established in 1881 in Tokyo, Japan. Eleven years later, in 1892, Seiko began to produce clocks under the name Seikosha.
The first watches produced under the Seiko brand appeared in 1924.
Seiko launches the Bell-Matic in 1966, World's first automatic alarm watch with a central rotor.
1969 was an important year for Seiko, the company introduced the Seiko caliber 6139 considered for many collectors the real first automatic Chronograph and the Astron, the world's first production quartz watch; When it was first in the market, it cost the same as a medium-sized car.
Three companies compete for the title of being the first company to have an automatic Chronographs, Zenith, Heuer, and Seiko.
Zenith announced the El Primero in January, the group behind the Heuer Caliber 11 start selling it to the global market first in August. While in Japan Seiko, quietly producing their automatic chronograph, and releasing it to the Japanese market as early as May 69.
Finally, in 1985, Orient and Seiko established a joint factory.
Seiko is perhaps famous for its wristwatches, all of which were at one-time production, entirely in-house. This includes not only major items such as micro gears, motors, hands, crystal oscillators, batteries, sensors, LCDs, but also minor items such as the oils used in lubricating the watches and the luminous compounds used on the hands and the dials.
Seiko produces both quartz and mechanical watches of varying prices.
The brand Alba sold the slightest expansive, which is around US$45. The most expensive, CredorJuri GBBX998, costs US$554.000.